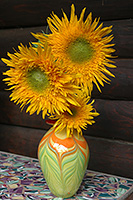 New to the plant scene at Hiddenhaven are exciting specialty cut flowers. This past season we grew 5,000 amazing sunflowers in our field. Ten different cultivars were tested. Two plantings occurred with the first on May 10 and the second on June 1, 2010. A light application of chicken manure was spread prior to planting and llama manure was placed between a few of the rows after planting. Seeds were hand planted 6 inches apart for non-branching varieties and 12 inches apart for the branching types. Harvesting started July 6th and continued until August 20th. These beauties touched so many lives bringing smiles and joy to all. Due to popular demand I'll be growing them again this year but have upped the numbers to 6,000 and 12 different varieties—this could easily get out of hand!! Order you seeds now to bring some sunshine into your gardens.
In addition to the sunflowers 80 spectacular heirloom and specialty dahlias were grown in a new cutting garden test plot along with zinnias, cosmos, Craspedia globosa (billy buttons), Trachelium caeruleum , and Gophrena 'Fireworks' to name a few. For early cutting a few of my favorites that were incorporated right into the mixed beds were Verona, Peach Blossom, and Willem Van Oranje tulips. Signs of their return are just starting to peak through the soil. Enjoy the images! I've provided you with some sources as well so you can experience the joy of these cut flowers first-hand. If you are a specialty floral designer or event planner and would like to purchase some of these unique cuts contact me at tracyda@midohio.net.

Cut Flower Sources
*Baker's Acres Greenhouse 3388 Castle Road Alexandria, OH 43001-800-934-6525 www.bakersacresgreenhouse.com
*Old House Gardens Heirloom Bulbs Ann Arbor MI 734-995-1486 www.oldhousegardens.com
*Brent and Becky's Bulbs Gloucester VA 877-661-2852 www.brentandbeckysbulbs.com
*Wildseed Farms Fredericksburg, TX 1-800-848-0078 www.wilseedfarms.com for large quantities of poppy seed!
*Johnny's Selected Seeds Winslow Maine 1-877-564-6697 www.Johnnyseeds.com Large selection of sunflowers!
Comments Off on Locally Grown Sustainable Specialty Cut Flowers