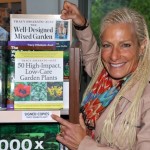 I had the wonderful opportunity in the autumn 2013 to speak on "The Well-Designed Mixed Garden" for the Swiss Association of Flower Arrangers at the Swiss National Museum in Prangins Switzerland just outside of Geneva. I did this interview with Hester Macdonald, World Radio Switzerland, in the gorgeous vegetable garden after the talk.
Included are a few photos from Caroline Sykes garden, my gracious hostess, for the event. Note the Swiss Alps as the "borrowed landscape".
During this same European trip my husband Jim and I raced Triathlon Worlds in London and visited The Royal Botanic Garden Kew. I had spoken at Kew many years ago and it was a delight to revisit and enjoy their "Incredible Edibles" display… yes, that's sweet corn growing outside the Victorian Palm House!! Delighted as well they were carrying all three of my books in their gift shop!!!