Timber Press released Tracy's newest book 50 High-Impact, Low Care Garden Plants:  Tough-but-Beautiful Plants That Anyone Can Grow on  January 15, 2009.
Learn more about it by clicking on the cover photo below or visiting the  Timber Press website.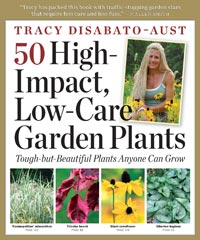 Gardeners everywhere have benefited from the trusty advice, reassuring tone, and helpful illustrations of The Well-Tended Perennial Garden. Now this completely revised third edition introduces a new generation of gardeners to Tracy DiSabato-Aust's proven techniques. Along with thorough details on the essential practices of perennial care, the new edition includes new species and cultivars, on-trend garden design advice, and new photographs and illustrations. There is also an increased focus on native plants and gardening for wildlife. Available now everywhere books are sold.
Previous books by Tracy DiSabato-Aust include The Well-Tended Perennial Garden and The Well Designed Mixed Garden. Click on the cover photos below to visit the Timber Press website for more info or to place an order: