Much of what I write and speak about on gardening occurs in my gardens at Hiddenhaven.  On this page I'll share photographs and other fun information about Hiddenhaven.   You may see info here about plants, or even my humorous chickens, dogs and cats.  Also on this page you'll see other beautiful and inspirational gardens from my travels.
Let's begin with a slideshow of some of my favorite photos….all taken in my Hiddenhaven garden!
Dominic my Dominique rooster likes to follow me around the gardens. He will eat scratch or kitchen scraps out of my hand and likes to be alert to any possible treats. On this particular spring day I was just back from a long bike ride,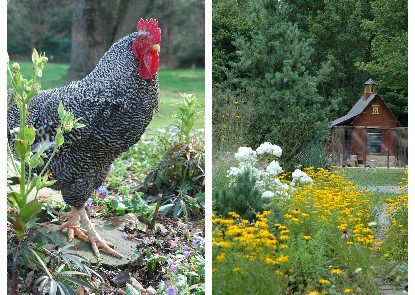 the weather was beautiful, and the gardens were just starting to come to life. I literally ran out (in my triathlon wear!) to photograph some of the hellebores for my new book and Dominic posed next to a stinking hellebore (Helleborus foetidus).
I designed the chicken coop based on one I saw of a friends but incorporated logs and windows as used on our house to unify the two structures. The cobalt blue on the windows and the yellow on the vent tie into the colors of pots, tile, and various art used throughout the gardens. By repeating colors or elements different spaces don't feel so different but rather harmonious.
Hiddenhaven offers a good example of the design work I do with medium-size gardens.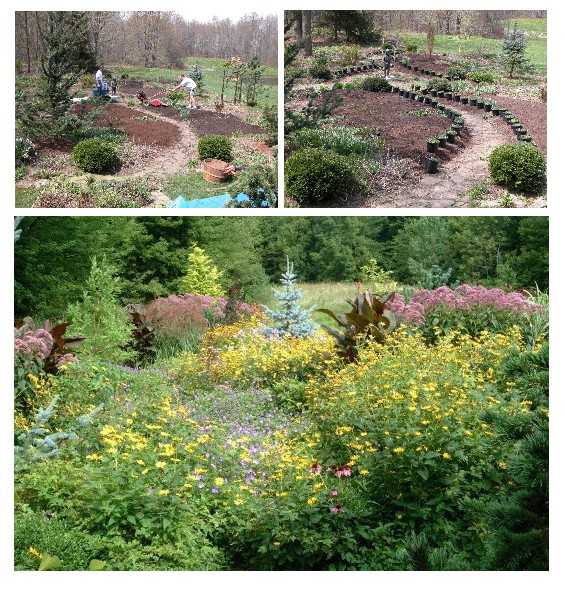 In September of 2008, I had the chance to visit Italy, and here are some photos I took of gardens while I was there.