I'm often asked "how do I keep my garden looking good in the hot humid days of summer?" Really the first step, as is oft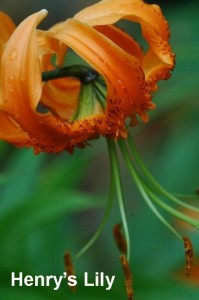 en the case, goes back to good design and planning ahead. Remember when you are designing your beds to plan for summer color. We often think about what the garden will look like in the spring but we may forget that we also want outstanding flowers and foliage during the long hot days of summer. And I'm not talking color from "ho-hum" annuals like marigolds and petunias but striking outstanding intense hot color from perennials and unusual annuals (yes.. I'm a plant snob!).
Remember to use intense, highly saturated hot colors such as reds, oranges and yellows which will stand up to the hot sun and continue to shine through. Pastels or tints of colors look washed out in bright full sun and are best reserved to spring days unless you live in an eternally overcast climate. Some striking hot colored perennial flowers in the garden this time of year  include, summer sun heliopsis (Heliopsis helianthoides var. scabra 'Sommersonne'), Lucifer crocosmia (Crocosmia 'Lucifer'), and Henry's Lily (Lilium henryi).   One of my favorite hot colored annuals is the bicolor flowered– Canna 'Cleopatra'. Wow this canna will have you drooling!!!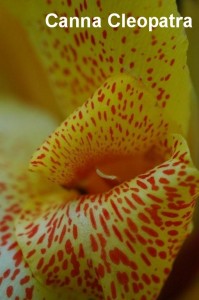 Ok so we've thought about design and brought in the right colors for summer now we need to maintain the garden this time of year. Some plants are starting to look a bit tatty—or worse for wear. Simply removing brown, yellow, or scorched leaves from such plants can give the entire garden a fresh look. This "deadleafing" has remarkable effects. Remember in some cases deadleafing may not be enough and the entire plant may need to be cut down. It's the end of July and I've been shearing spiderwort (Tradescantia x andersoniana) down to the ground. All the brown and yellow leaves are on my last nerve every year at this time and rather than snip here or there—I like to just be done with it and allow fresh foliage to emerge later in the season.
Although this time of year is not normally the best for division certain perennials like bearded iris, poppies (Papaver orientale) and peonies prefer division now.
Let me know how your garden is fairing this time of year…and how are you coping? Take care and embrace these hot days and hot colors because before we know it the frost will hit and we'll be finished with another season.